Relative Positioning Bracket
Allows the marking head to align and position accurately with the surface to be marked. Each bracket is machine model specific.

Shifts air flow in air cylinder.

Controls exhausted air while providing full flow in opposite direction allowing smooth controlled marking head movement.

A magnetic hall or reed switch can be mounted on the air cylinder to sense position. All models (except 22/28/44/416) have a magnent on piston cylinder feature standard. Models 44 / 416 can have a magnent on piston feature added to the air cylinder as an option.

Switch that detects end of stroke travel of the air cylinder for those applications where this could be beneficial (e.g. varying marking surface heights). This switch can also be used as a return signal.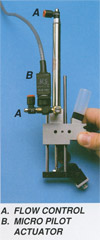 Flow Control & Micro Pilot Actuator
Flow Control & Micro Pilot Actuator.

Flat Cap and Yorker Spout Bottles
Flat Cap and Yorker Spout Bottles



PLC, proximity switch, photcell, mechanical trigger switch, etc., that provides momentary signal to the four-way valve to cycle marking machine. Due to the magnitude of options possible customer determines and supplies seperately.
Rubber Type and Molded Messages
Rubber type size up to 1/4" high and smaller molded messages are made with two ribs on back to be secured in the type holder. Larger type size and larger molded messages may contain more ribs on back reducing lines of type or message that can be installed in a fixed area (consult Sprinter for more details).
Optional rubber type kits:
Number (8-10 each number)
Letter/Number (2-6 each character)
Date Code (01-12, 01-31, and 2 digit year)
Individual Characters (50 each).
Specify kit type and character size. Supply artwork for molded message quote (5 per package).