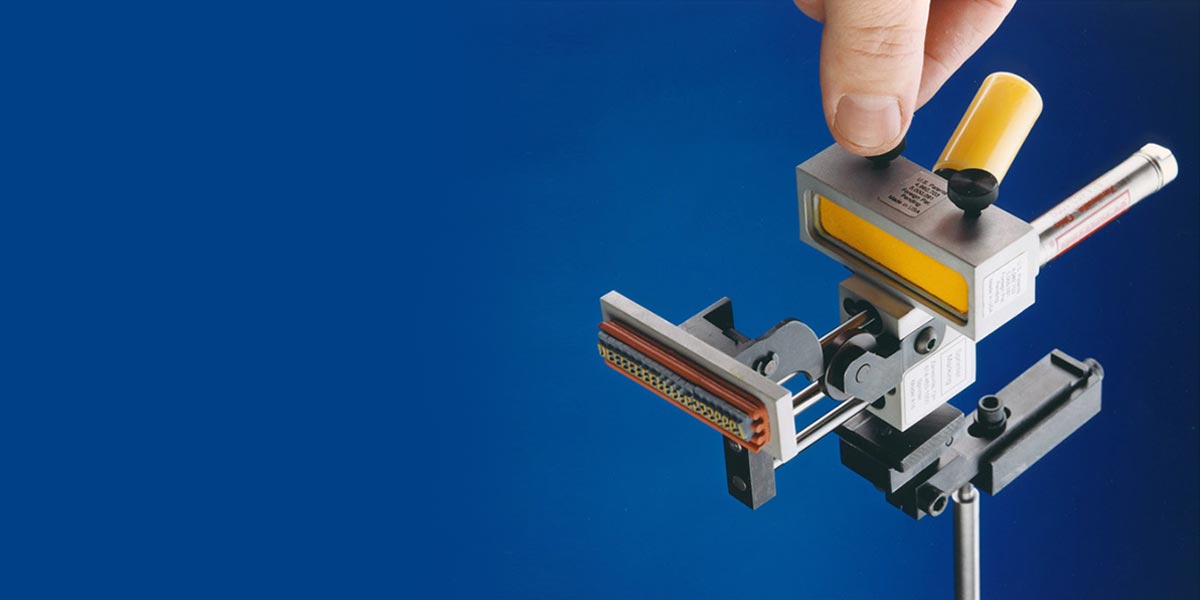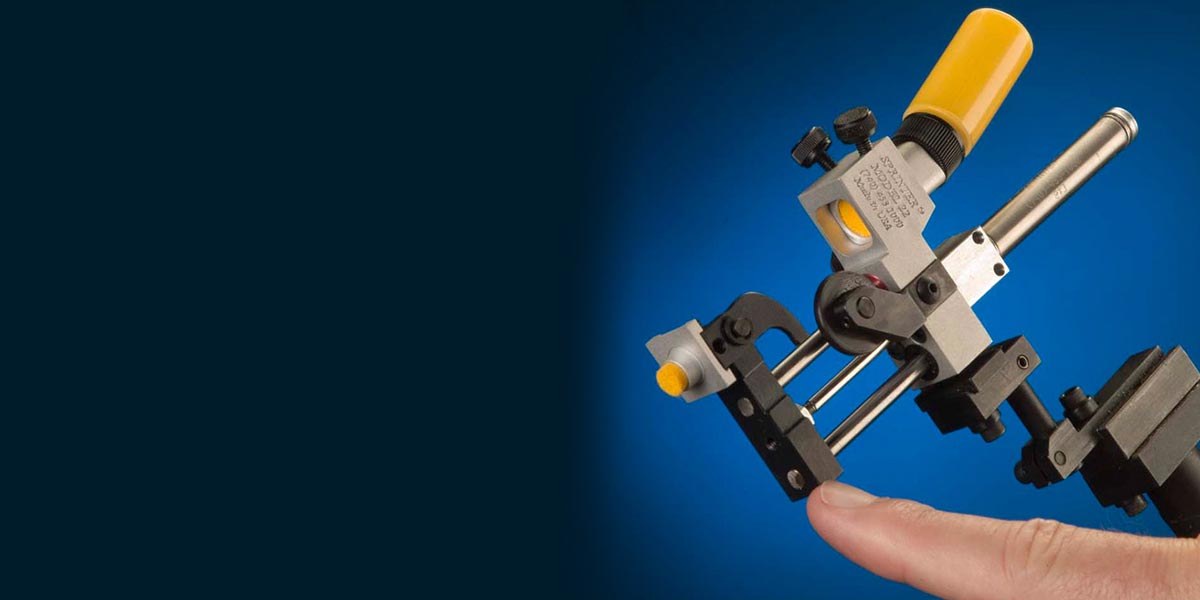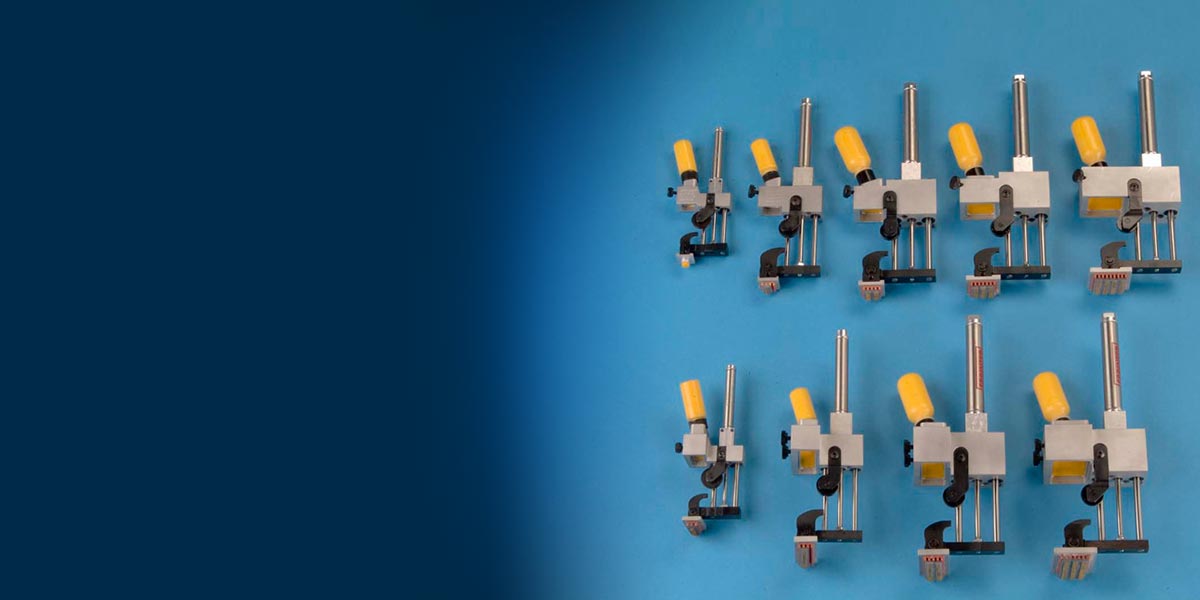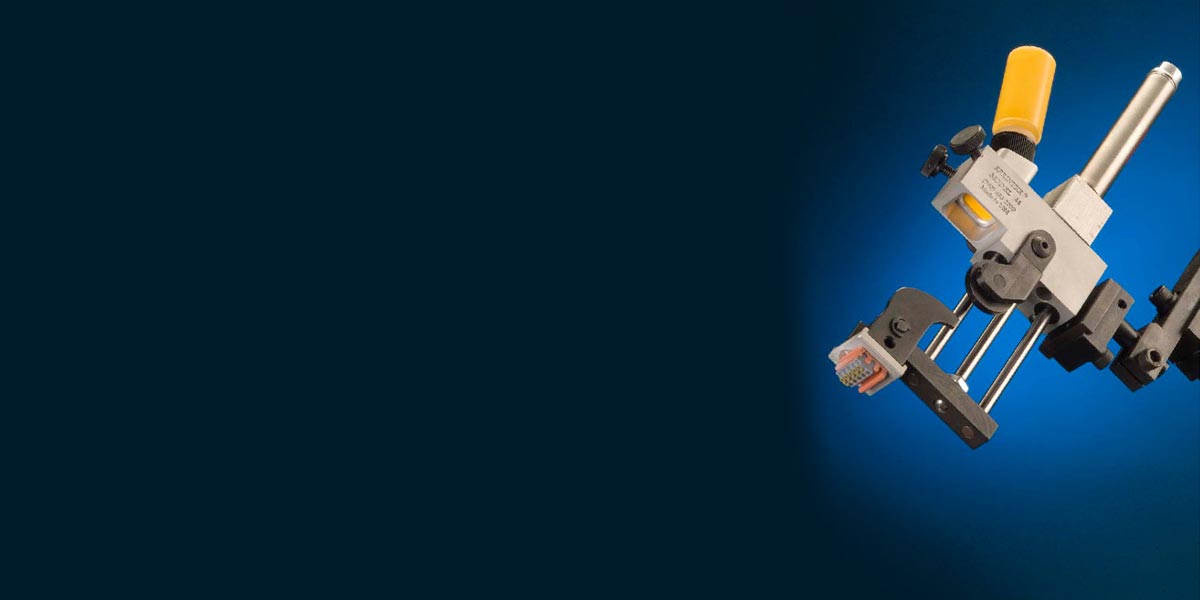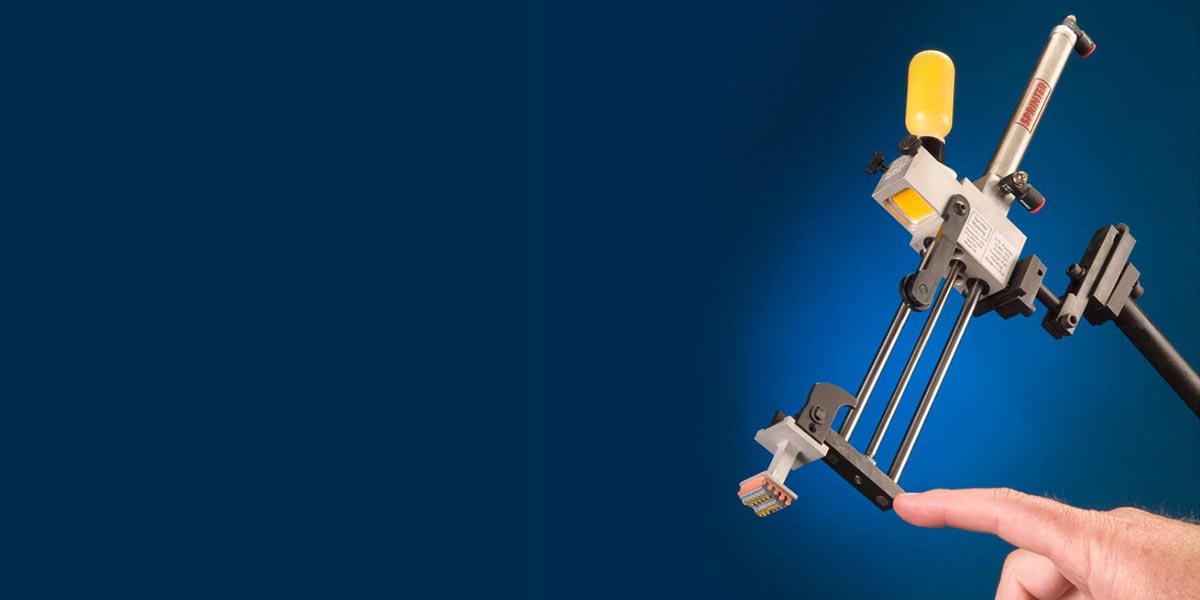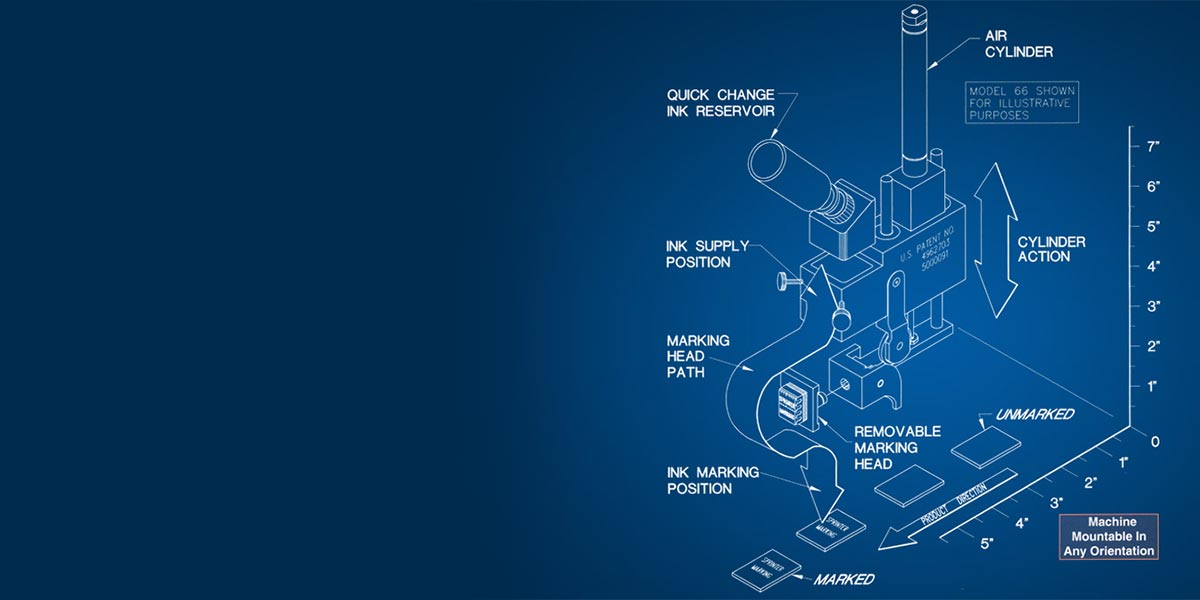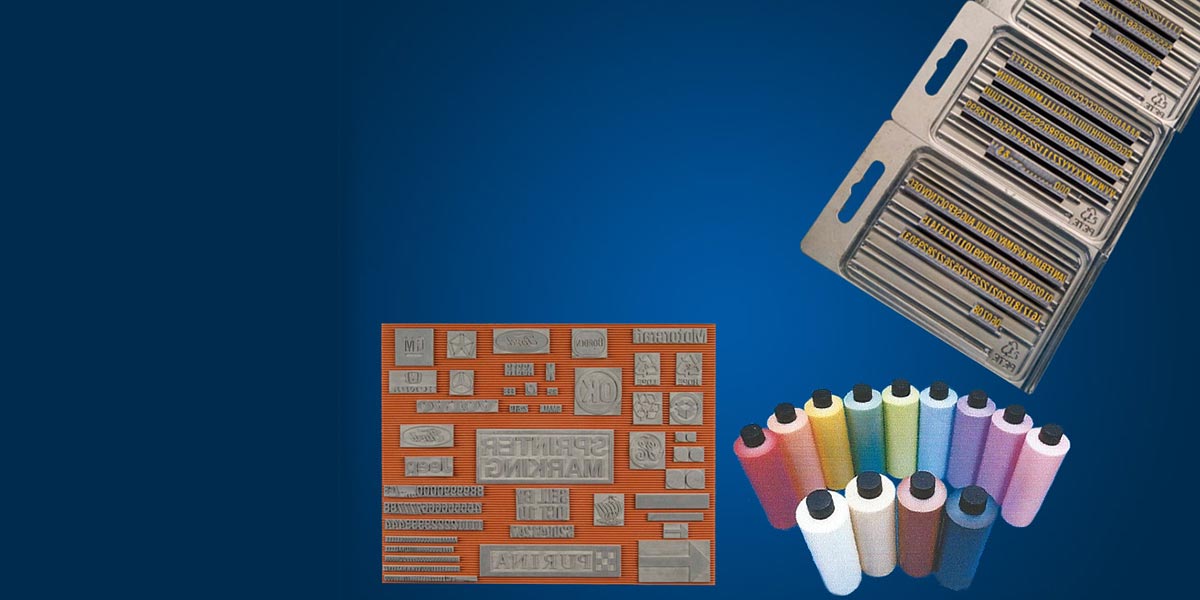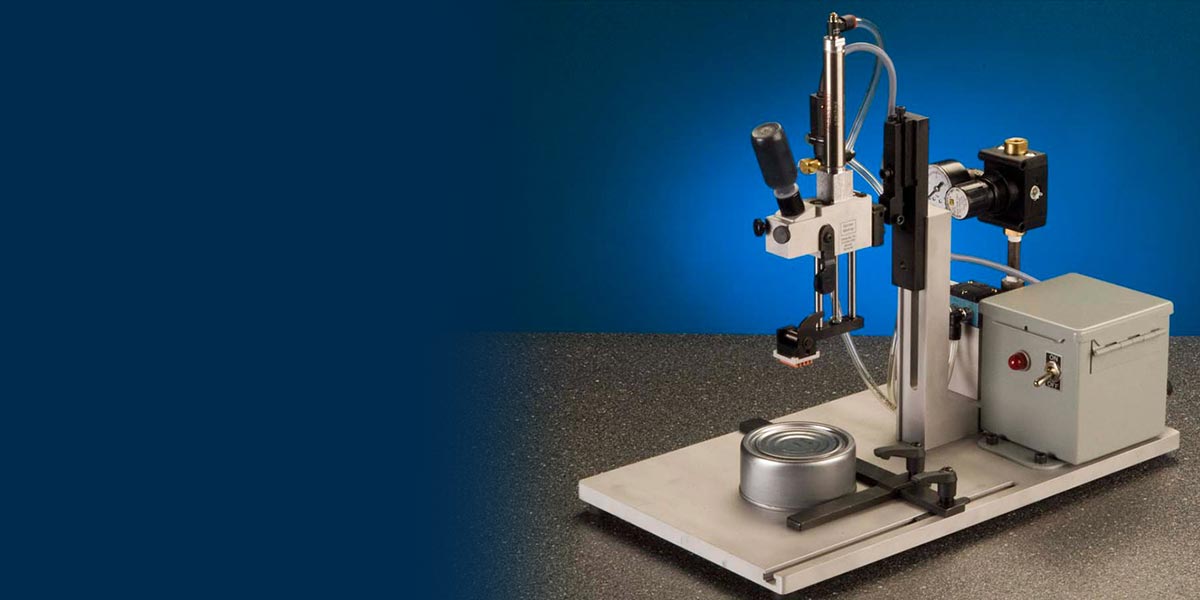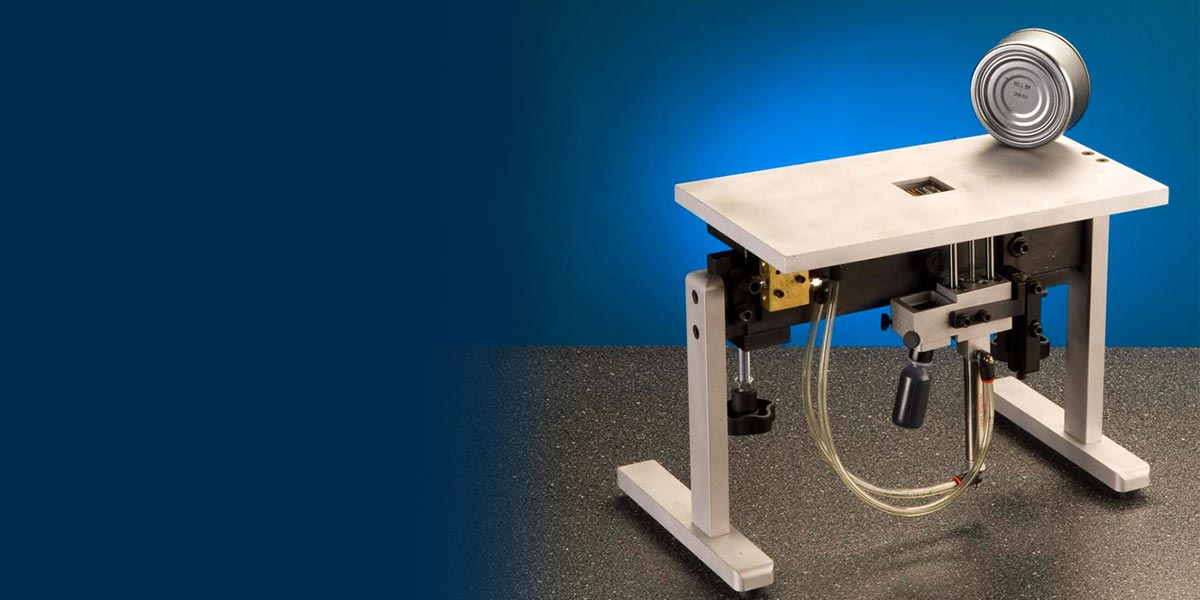 Slide
Industrial Contact Ink Code Marking Machines
Product/Date Coding
Dot/Spot Marking
Lot/Part Numbering
Pass/Fail Marking
Model 416 Shown with Rubber Type Mounted on the Marking Head
Slide
Sprinter Marking Model 22 Pass/Fail Dot Marking Machine
Shown with 1/4" dia Dot Marking Head. Different sizes and shapes of dots available on all Sprinter Markers.
Slide
Nine Standard Sprinter Ink Markers Available
All models can be used for either product coding or dot/spot marking depending on marking head chosen.
Slide
● Provide reliable, low cost, ink code marking.
● May be mounted in any orientation
● The sealed ink system allows for use of quick drying inks and instant startup.
● Quick change Ink Reservoir allows for fast change of ink supply and ink color
● Removable marking head for quick message changes.
● Sprinter Markers may be modified or made to order for your particular marking application. Contact factory for more information.
Sprinter Marking supplies all the basic, optional, and auxiliary equipment as well as operating supplies for all code-marking operations.
Slide
All Models can be modified to have an extended marking head and or extended stroke
Sprinter Model 66 EH1E2 shown
Slide
Sprinter Marking Head Path
Slide
Sprinter Ink & Rubber Type
● Many Types and Colors of Ink available.
● All sizes of rubber type available in: letter/number kits, number kits, individual characters and logos.
Slide
Shown with Sprinter Marker Model 66 mounted in the upright position with a standard ink reservoir.
Slide
Complete Benchmount System
Shown with Sprinter Marker Model 88 mounted upside down using an inverted ink reservoir system.
Sprinter Marking prides itself in making the most rugged, reliable industrial contact ink marking machines that are not only operator friendly, but have low operating costs.
Welcome to

SPRINTER MARKING
Sprinter Marking prides itself for inventing and manufacturing the most simplistic designed innovative, versatile, low cost contact ink code marking machines on the market.
In 1990, we designed and manufactured this innovative contact ink marker. We have been selling and servicing our equipment for over 25 years through agents and directly all over the world.
Sprinter Marking manufactures a range of machine models that automatically ink code-mark messages or dots up to 2 square inches. These messages or dots can be produced on a wide range of surfaces including flat or circular, as well as porous or non-porous.
These machines are very small in physical size, yet are built for rugged, reliable industrial operation and are capable of intermittent coding and marking as well as high speed imprinting on a continuous basis. The markers can be mounted in any orientation on existing in-line production/ assembly lines or test stations to get a labor free ink mark.
Sprinter's industrial contact ink marking coder machines are also available for off-line operations as a complete system. In addition, Sprinter Marking offers a benchtop system for low volume date/product marking production runs. We can also custom design a stand alone system for your product needs.
Sprinter Ink Code-Marking Machines operate with a reciprocating action. The reciprocating action is where the marking head moves from the ink supply position to the marking position by doing a 180 degree change of motion. All models of Sprinter operate in the reciprocating action by having an air cylinder drive the marking head forward from the retracted position to the extended position. Once the code mark is made the marking head retracts when the cylinder reverses action. Thus Sprinter models are often referred to as reciprocating coders.
Sprinter Marking has been involved with ink code-marking machines since the early 1970's and has a long list of Fortune 500 companies that are repeat buyers. If you are looking for a high quality, reliable, low maintenance, easy to operate contact code marking machine, contact Sprinter Marking to discuss your application.
Sprinter Marking is happy to announce that Elried Marking Systems of Germany has taken over representation as a stocking distributor of our equipment and operating supplies for the European market effective Oct 1, 2022. Elried is taking over the accounts formerly serviced by Tampomark of Germany. Tampomark will focus on supporting decorative marking applications with their pad printing technologies.
Elried was founded by Elisabeth Riedmaier in 1959 as a European representative of Ideal Stencil Company, Belleville, IL. The company has stayed in family ownership since that time and the motto "nothing is impossible" has remained. The third generation is meanwhile acting in a managerial capacity in the company.