Sprinter Marking offers a wide range of industrial marking ink types to suit a range of customer requirements. Some of the more common types and colors are described and depicted below.
Common Ink Types
Quick dry / pigmented:
This is the most common ink used for the majority of industrial marking applications. Drying time is measured in one to two seconds on non-porous surfaces and quicker on porous surfaces. The ink is heavily pigmented to provide an easily read mark on both light and dark backgrounds. Pigmented inks offer better chemical and mechanical resistance than dye-type inks. The ink vehicle is alcohol based and promotes the flow of pigment. This makes for very fast dry times on both porous and non-porous surfaces. Pigmented inks also are more light-fast than dye-type inks. Pigmented inks do require shaking to uniformly disperse the pigments in solution. This should be done on a daily basis when in use or when being transferred to other containers. Several different grades are offered. These inks are flammable and need to be handled in accordance with the Material Safety Data Sheet recommendations.
Water wash off:
This is a water based industrial marking grade ink. It is usually used in applications where the ink will be washed off in a later process. Some grades are pigmented and others are dye-type. These inks are non-flammable and non-hazardous.
Others:
There are many types of ink that may be used with the Sprinter machines including but not limited to:
UV invisible inks
Inks for marking food and food packaging products
Fabric marking inks
USDA approved inks
MIL Spec approved inks Consult Sprinter for further details.
Sprinter marking ink is available in the following quantities: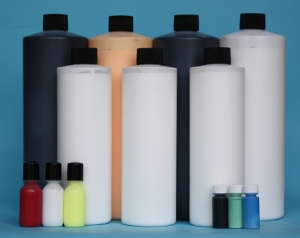 Quart, Pint, 1/2oz., and 1/4oz. bottles
Common Ink Colors
The colors shown in the gallery below are representative of the ink color itself. When ink is deposited on various types and colors of surfaces the color will change to some degree. Not all colors are availiable in all grades. Consult your representative or Sprinter for details. All inks offered have a Material Safety Data Sheet (MSDS) detailing safe storage and handling procedures. MSDS's are availiable in the Downloads section.
Ink Photo Gallery

Black

Blue

Brown

Canary Yellow

Grass Green

Green

Light Blue

Lime Green

Orange

Pink

Purple

Red

Silver Gray

Tan

White

Violet

Yellow