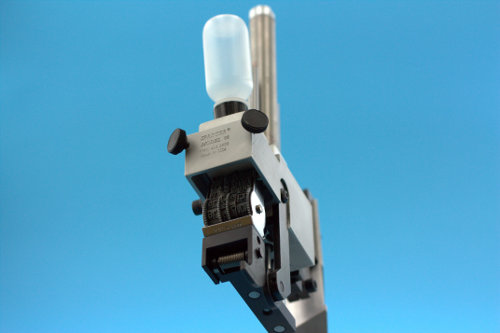 Sprinter Marking is pleased to announce a new product line of band head ink code-marking machines. We are introducing two standard band head models both of which have multiple, separate, indexable bands to apply various alph / numerical / symbol / or date ink codes.
The standard unit will come with bands that have numerical characters (0 to 9) on each band. Character height of 5/32" is standard but other sizes can be made available. As well bands can be purchased that have alphabetical characters, alpha/numerical combinations or symbols such as (star/square/triangle/dash/dot) etc. Bands can be made with word combinations such as "SELL BY" / "USE BY". Each standard band has one position with no character present so operator can apply a four digit code where two bands are positioned to the blank position. Should users need a band marking head with seven or greater bands or different character/symbol heights, please consult the factory for more information.
The Six Band Head can be used for date coding, product numbering, part identification, lot numbering and symbol identification. Each band can be independently indexed to apply a different character/symbol. These units allow the operator to quickly "dial in" a new character/symbol on any given band for quick changeovers.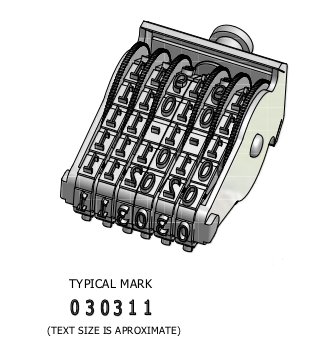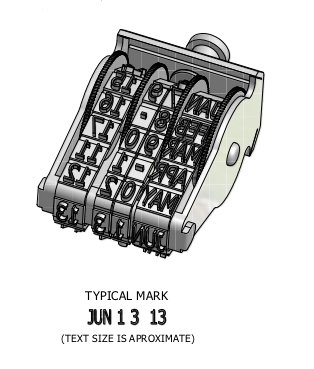 The Date Band Head is utilized for date coding applications. There are four bands on these units that apply a date code.
The first band applies the month in a three character format (i.e. JAN). The next two bands are number bands that allow the day to be applied in a two digit format (i.e. 01-31). The fourth band is a year band with the year in a two digit format (i.e. 11 for 2011). Character height of 5/32" is standard but other sizes can be made available.
The band heads are ideally run on an extended head Model 88 unit, but other custom solutions may be available to fit your particular application. Consult factory for further information.